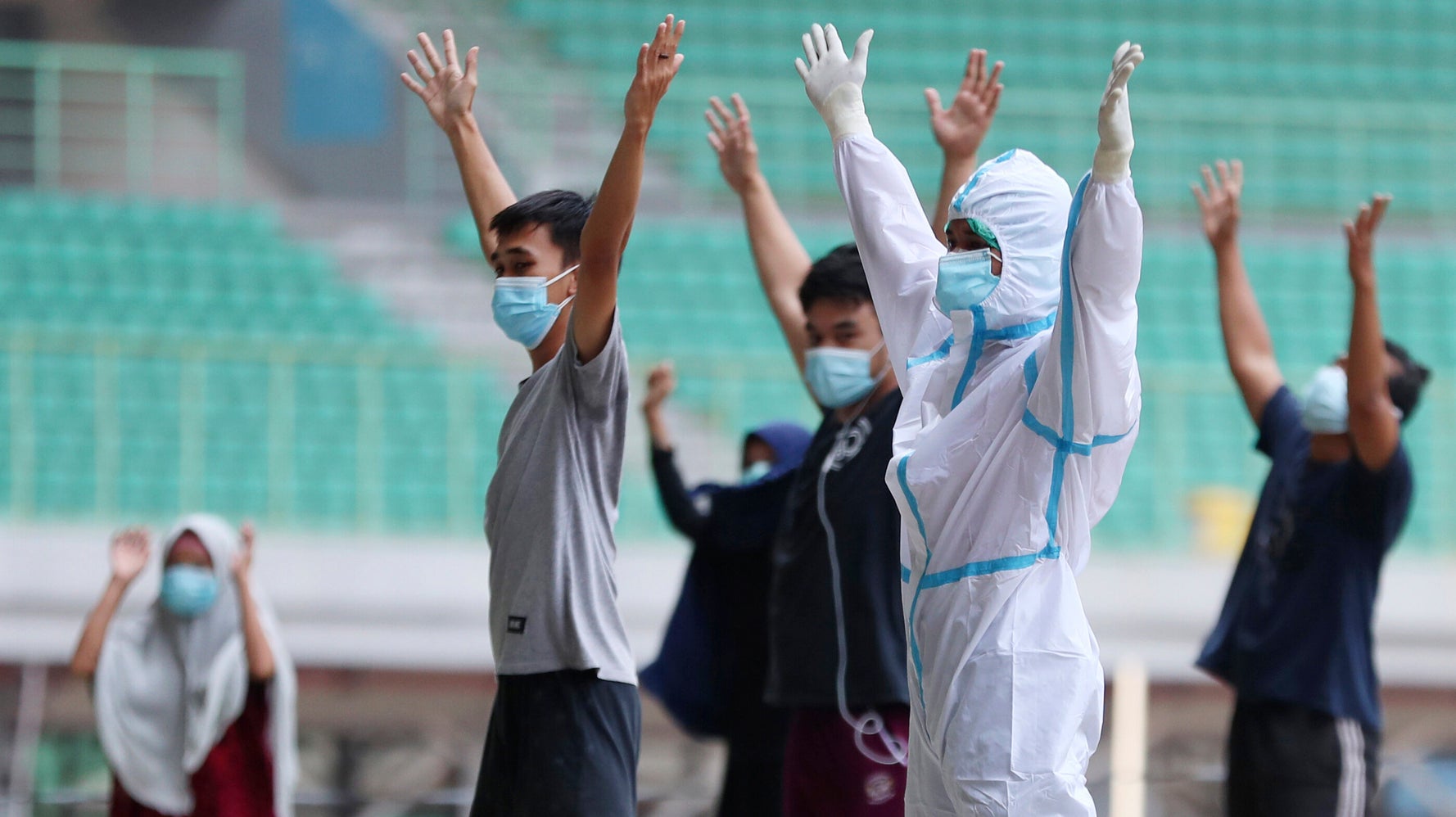 Stay up to date as we cover the ongoing COVID-19 pandemic and its effects across the world.
Efforts to curb the outbreak have led to the global disruption of daily life and the economy, as schools and workplaces shuttered in hopes of slowing transmission. After months of precautions and lockdowns, governments have begun to reopen their economies.
HuffPost reporters around the world are tracking the pandemic and its effects.
Read the latest updates on the coronavirus pandemic below. (To see the latest updates, you may need to refresh the page. All times are Eastern. For earlier updates on the pandemic, go here.)
Coronavirus Is Now Responsible For At Least 1 Million Deaths Worldwide — 9/28/20, 9:30 p.m. ET
The number of coronavirus-linked deaths worldwide surpassed the 1 million mark on Monday, nearly 10 months after China reported the world's first COVID-19 virus, according to Johns Hopkins University data.
The United States has recorded the highest number of cases and deaths to date, with more than 7 million cases and at least 205,000 deaths. Brazil has the second-highest death toll, with just over 142,000 deaths, and India with the third highest at over 95,000 deaths.
The U.S. death toll is on track to surpass targets set by President Donald Trump's administration. Trump said in April that models estimated the virus could kill as many as 220,000 people nationwide, though he predicted the death toll would actually be "substantially" below 100,000.
Several countries — including the U.S., the United Kingdom and China — have taken the lead in vaccine development as coronavirus cases continue climbing. Researchers were conducting clinical trials on humans for at least 40 vaccines as of Monday.
China and Russia have granted limited approval for a handful of vaccines without awaiting the results of late-stage trials, moves that public health experts say could pose safety risks.
Several vaccines are undergoing late-stage trials in the U.S. Though Trump has promised a vaccine would be available to most Americans by the end of the year, his own health officials and scientists have said that hundreds of millions of doses of a potential vaccine likely wouldn't be available until at least mid-2021.
— Sanjana Karanth
Trump Announces 150 Million Rapid COVID-19 Tests To Help States Reopen Economies, Schools — 9/28/20, 5:10 p.m. ET
President Donald Trump said Monday that the federal government plans to distribute 150 million rapid COVID-19 tests nationwide in the coming weeks, a move aimed at helping states reopen schools despite the virus surging in several parts of the country.
The president said that 100 million of the rapid antigen paper tests from Abbott Laboratories will go to governors, including 6.5 million that will be deployed this week. Though the governors get to ultimately decide who gets the tests, the administration is encouraging them to direct rapid tests to K-12 schools so they can restart and maintain in-person teaching.
"The support my administration is providing would allow every state to, on a very regular basis, test every teacher who needs it," Trump said. "This continues our critical effort to use testing to protect high-risk communities. These new Abbott rapid point-of-care tests are easy to use and return results within just minutes."
The remaining tests will go toward populations vulnerable to the virus. This includes nursing homes, assisted-living facilities, home health care and hospice, historically Black colleges and universities, and tribal nation universities.
The Abbott BinaxNOW test ― which Adm. Brett Giroir, the assistant secretary for health, demonstrated at Monday's briefing ― is a single-use device about the size of a credit card. The test can be self-administered and involves a nasal swab that would then be applied on the device for testing. The test produces results in about 15 minutes.
The shipments come from an order of tests the federal government arranged to buy and announced last month. The Department of Health and Human Services said on Aug. 27 that the Trump administration planned to deploy 150 million rapid tests for the remainder of the year as part of a contract with Abbott, though the announcement did not include when the tests would be districted. The Food and Drug Administration gave emergency use authorization for the test just a day before that announcement.
Vice President Mike Pence said that Americans should expect a rise in COVID-19 cases "in days ahead" due to increased testing, but cases have already been rising as states struggling to contain the virus choose to reopen economies and schools anyway.
Experts have warned that the U.S. could see a spike in infections this fall and winter, and early evidence shows children could be contributing to the spread.
— Sanjana Karanth
CDC Staffers Voice Worry Over Trump Admin Meddling In Public Health Messaging ― 9/28/2020, 11:45 a.m. ET
In recent months, several incidents have heightened concerns among Centers for Disease Control and Prevention officials that the Trump administration intends to transform the agency by ensuring its health guidance to Americans matches the president's cheery messaging about the coronavirus pandemic.
The Washington Post reported Monday that morale is low at the agency following President Donald Trump's public condemnations of CDC Director Robert Redfield, Health and Human Services spokesman Marc Caputo alleging without evidence that CDC staffers are working to oppose the president, and various efforts by Caputo and others to alter the CDC's "Morbidity and Mortality Weekly Reports" in ways that favor Trump politically.
The report says the CDC currently faces a credibility crisis that could become worse if, as some staffers suspect, the Trump administration moves to replace Redfield with a director who is even more deferential to Trump's self-serving wishes. Scott Atlas, a Trump pandemic adviser and Stanford University professor with no public health experience, reportedly may be Trump's pick to replace Redfield if the director were to resign or be fired. Some staffers said they would resign if Atlas took over the role. 
Monday's report paints a picture of an agency facing an onslaught of political influence from an executive branch obsessed with manipulating the message.
"The worst is the silence," one CDC scientist told the Post. "You can't explain what's going on, correct mistakes, clarify things quickly before they spin up and out of control."
― Ja'han Jones
Fauci Calls Florida Fully Reopening Bars And Restaurants 'Very Concerning' ― 9/28/2020, 11:20 a.m. ET
Dr. Anthony Fauci, the leading infectious disease expert on the White House coronavirus task force, said Monday that Florida Gov. Ron DeSantis' decision to allow bars and restaurants to fully reopen is "very concerning."
"That is something we really need to be careful about, because when you're dealing with community spread and you have the kind of congregate setting where people get together ― particularly without masks ― you're really asking for trouble," Fauci said when asked about the move during an appearance on ABC's "Good Morning America."
DeSantis, a Republican, signed an executive order Friday to allow bars and restaurants to immediately begin operating at 100% capacity.
As of Monday, Florida has recorded the third-highest total number of coronavirus cases in the U.S., with more than 700,000, and the fifth-highest number of virus-linked deaths at more than 14,000.
Florida was one of the hot spots during the early summer, but has seen a sharp decline in new cases in recent weeks. Public health experts have warned that the upcoming flu season coupled with the coronavirus crisis could lead to a spike in hospitalizations.
"Now's the time actually to double down a bit," Fauci said Monday. "And I don't mean close. ... We're not talking about shutting anything down. We're talking about commonsense-type of public health measures that we have been talking about all along."
― Hayley Miller
UK Students Only Allowed Home At Christmas 'If Public Follows Lockdown Rules' — 9/28/20, 6:30 a.m. ET
Thousands of university students across the U.K. will only be allowed to return home to their families at Christmas if the public follows the new coronavirus lockdown rules, a senior government minister has said.
The British government is under pressure to guarantee young people are not confined to their campuses over the festive period because of COVID-19 outbreaks at their universities.
Thousands of students are currently self-isolating in their rooms following a surge in cases at institutions in cities including Glasgow, Manchester and Edinburgh, HuffPost UK reports.
Culture minister Oliver Dowden told Sky News: "I very much want students to be able to go home at Christmas, and if we all pull together and observe these new rules, we follow the guidance, then we will be able to get to a point where that should be possible."
More than 17 million people – a quarter of the U.K. population – are now under tougher coronavirus restrictions after new measures were introduced on Sunday.
Britain recorded 5,693 new cases of coronavirus on Sunday, down on the 6,042 reported a day earlier, data published on the government's website showed.
— Ned Simons and James Martin
Nobel Prize Winners Float Radical Plan To 'Save Christmas' In France —9/28/20, 6:25 a.m. ET
Two Nobel Prize-winning economists have called for a nation-wide "Advent lockdown" in France to "save" the traditional year-end holiday period.
Esther Duflo and Abhijit Banerjee, two economists who won the Nobel Prize in economics in 2019, say the economic cost of a pre-emptive lockdown from Dec. 1 to Dec. 20 would be less than canceling traditional year-end celebrations.
As part of their plan, people would be encouraged to do Christmas shopping in November, while the final two weeks of school would be taught remotely, reports HuffPost France.
The aim would be to limit contamination during traditional family gatherings by reducing virus transmission in the weeks before the year-end break.
Writing in France's Le Monde Newspaper, Duflo and Banerjee say the measures would also reduce the likelihood of more drastic lockdowns after the holiday period.
France's health minister has downplayed a national pre-emptive lockdown before Christmas and instead said he will continue to monitor data on a day-to-day basis.
— James Martin
U.N.'s Failures On Coronavirus Underscore Need For Reforms — 9/27/2020, 2:35 p.m. ET
The United Nations' failure to bring countries together to contain the coronavirus — which has claimed nearly 1 million lives globally — prompted renewed calls for the world body to undergo reforms.
"The pandemic is a clear test of international cooperation — a test we have essentially failed," U.N. Secretary-General António Guterres said last week in the first-ever virtual meeting of the U.N. General Assembly.
There is a "disconnect between leadership and power," he told world leaders and warned that in the 21st century's interconnected world, "solidarity is self-interest." "If we fail to grasp that fact, everyone loses," he said.
The General Assembly highlighted the growing inequality between rich and poor countries and the escalating difficulty of getting the U.N.'s 193 member nations to agree on major issues — let alone unite on reforms.
Tensions were on display at a U.N. Security Council meeting when the U.S. and China — two of the council's five veto-wielding permanent members — accused each other of mishandling and politicizing the coronavirus.
Read more from The Associated Press here.
— Hayley Miller
Florida Orders All Restaurants Open While NYC Moves To Permanent Outdoor Dining — 9/25/2020, 1:30 p.m. ET
Florida moved to reopen all restaurants in the state on Friday, while New York City will move to allow permanent outdoor dining.
Florida Gov. Ron DeSantis announced the reopenings on Friday, allowing all restaurants in the state to open immediately and at full capacity. The order also prevents cities and counties from ordering restaurants to close without citing economic or health reasons for doing so. The announcement came the same day Florida surpassed 14,000 deaths from the coronavirus.
Also on Friday, New York City Mayor Bill de Blasio announced that outdoor dining ― which allows restaurants to serve customers on sidewalks or curbs ― would remain a permanent fixture, WNYC reported.
"I want us to go for the gold here," de Blasio said. " I really want us to take this model and make it a part of the life of New York City for years and generations to come … I really think it's going to help restaurants survive."
New York City, once the epicenter in the United States for the virus, has seen a steady drop in daily cases.
— Sebastian Murdock
For more on the pandemic, go here.


A HuffPost Guide To Coronavirus
Everyone deserves accurate information about COVID-19. Support journalism without a paywall — and keep it free for everyone — by becoming a HuffPost member today.
Calling all HuffPost superfans!
Sign up for membership to become a founding member and help shape HuffPost's next chapter
Chia Sẻ Bài Viết